How to buy Bitcoin from Coinbase: A step by step Guide
Today, I'm going to give you a step by step guide on how to buy Bitcoin from Coinbase. As you've probably heard, the past 6 months have been good times for Bitcoin. Prices have increased ten fold, and there is speculation that Bitcoin could go into the tens of thousands.
The big questions is: How does the average Joe invest in Bitcoin?
The great news is that there is multiple ways of purchasing Bitcoin. Many of which are quite easy.
The one that we are going to explore today is the online purchase from the Coinbase Exchange.
Now without further to do, lets begin our journey of making our first Bitcoin purchase.
Note: The links to Coinbase on this article is a referral link. It will give both of us $10 of free Bitcoin after you buy or sell $100 worth of digital currency. I'd really appreciate it if you supported me by clicking on my links.
How to Buy Bitcoin from Coinbase
If you haven't heard of Coinbase, it's probably one of the easiest, most reliable ways of purchasing Bitcoin.
Coinbase is an online exchange where you can buy or sell Bitcoin. To add icing on the cake, is also a wallet. This means that you can securely hold your Bitcoin on Coinbase's servers and easily access it from any device.
Just like any other financial institution, Coinbase is required to collect personally identifiable information about you. This is to prevent fraud and to protect your account.
If you would like to buy Bitcoin anonymously, you can scroll down the article to the section about how to buy Bitcoin in person.
What you'll need to setup your Coinbase account:
The last 4 digits of your social security number
A bank account or Debit Card
A cell phone to connect with your account
An email to connect with your account
Signing up for Coinbase
To sign up for a Coinbase account, go to the Coinbase Website.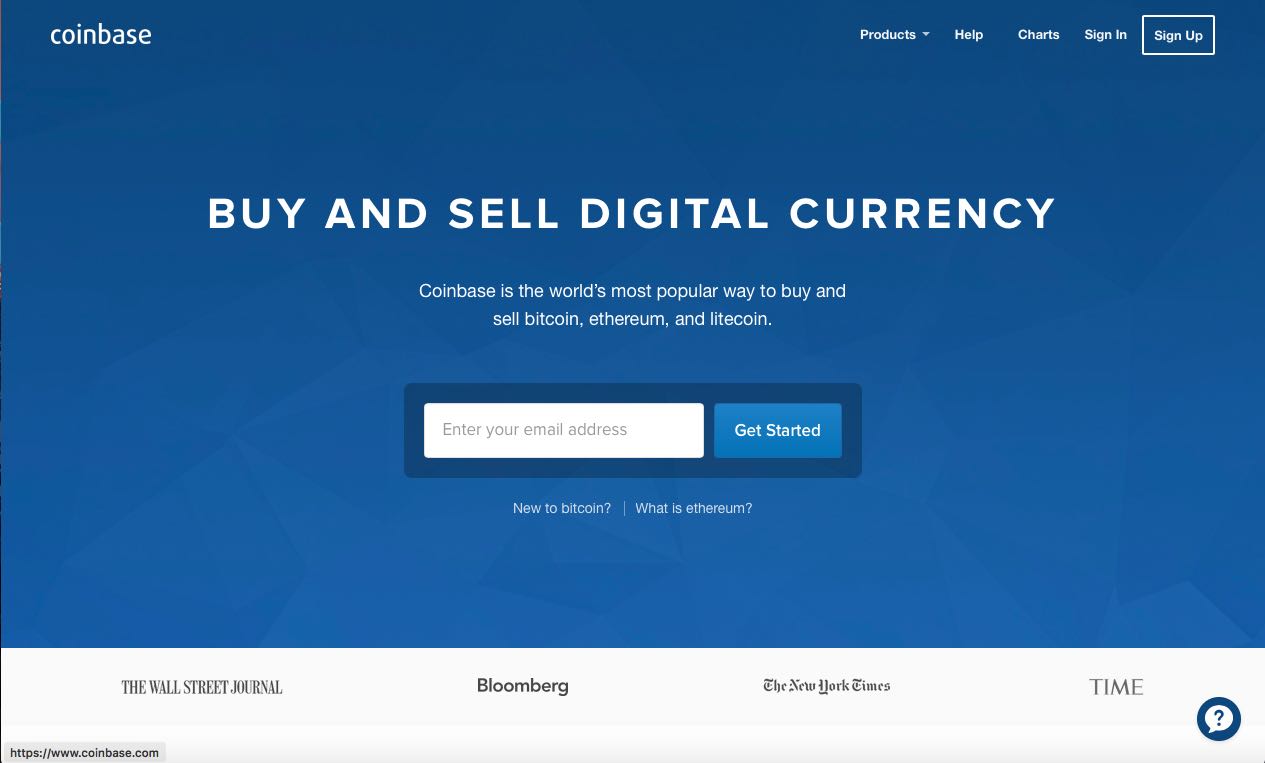 In the top right corner, click the "Sign Up" button to proceed.
On the next page you are going to enter normal account details such as your First Name, Last Name, Email Address, Password, and the state that you live in.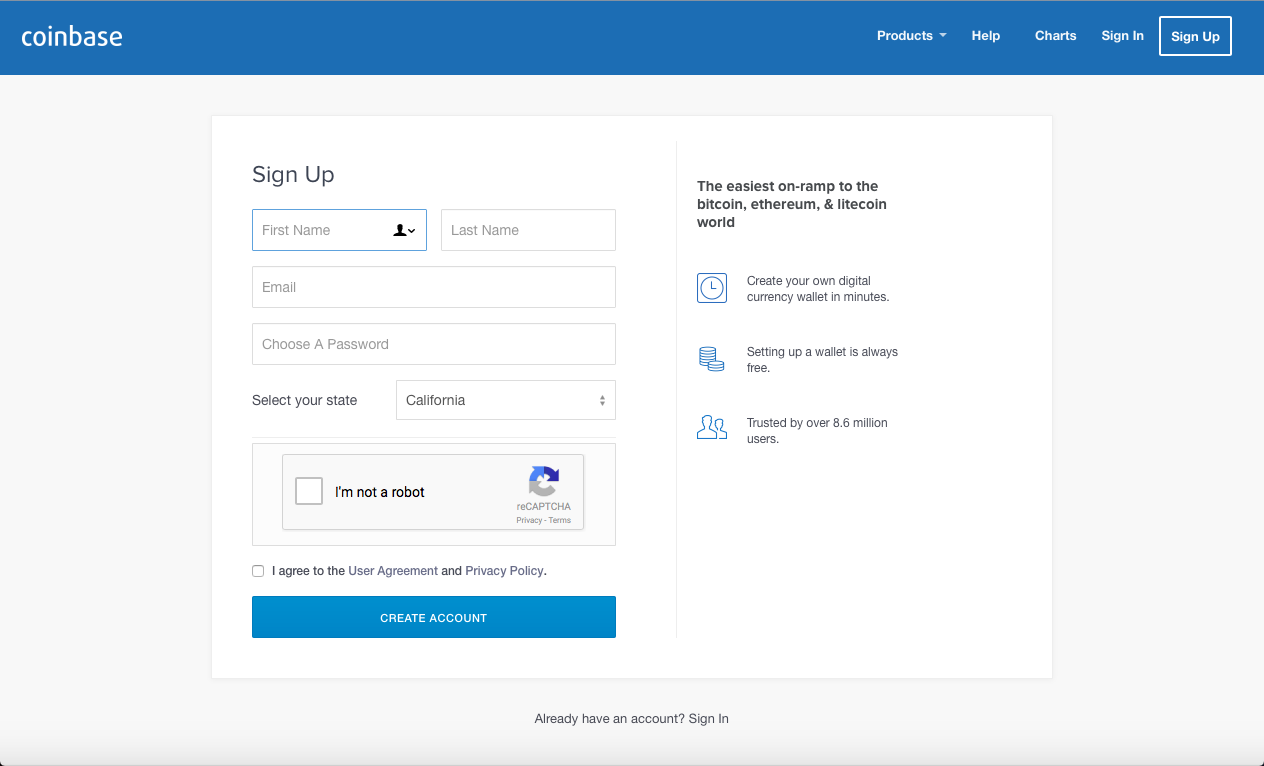 On the next few pages, you'll confirm your email, phone number, social security etc… I'd post some pictures, but I don't want to put any personally identifiable information on the internet.
Adding a Payment Method to your Coinbase Account
On the "Add Payment Method" page you are given three different options. You can connect your PayPal Account, Bank Account, or Credit/Debit Card to your Coinbase account.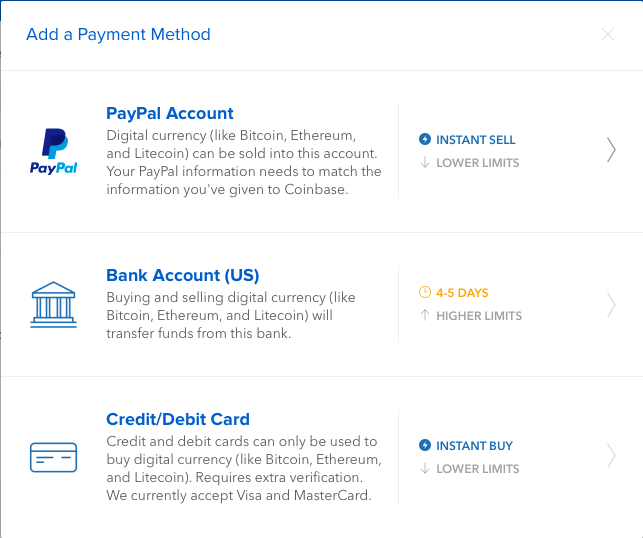 Paypal
You are only able to transfer sold Bitcoin into your PayPal Account, you won't be able to purchase with it.
Bank Account
You can purchase and sell Bitcoin with your Bank Account. The only issue is that it takes about 4-5 days to purchase using your bank account. This is because it takes that amount of time roughly to complete an ACH transfer (Typical Bank Transfer).
Once you have money transferred into your account, you can buy and sell bitcoin instantly.
Credit/Debit Card
When you connect your Credit or Debit card to your Coinbase account, you can only purchase Bitcoin instantly. If you do decide to sell your Bitcoin and transfer it off of your Coinbase account, you will have to connect a bank account.
Coinbase will not be able to transfer money back onto your Credit or Debit card.

Purchasing Bitcoin from Coinbase
Purchasing Bitcoin with Coinbase is a painless process. This is why it has become one of the most popular mediums for buying and selling Bitcoin.
Simply goto the "Buy/Sell" section in the top menu. You'll be brought to the following page: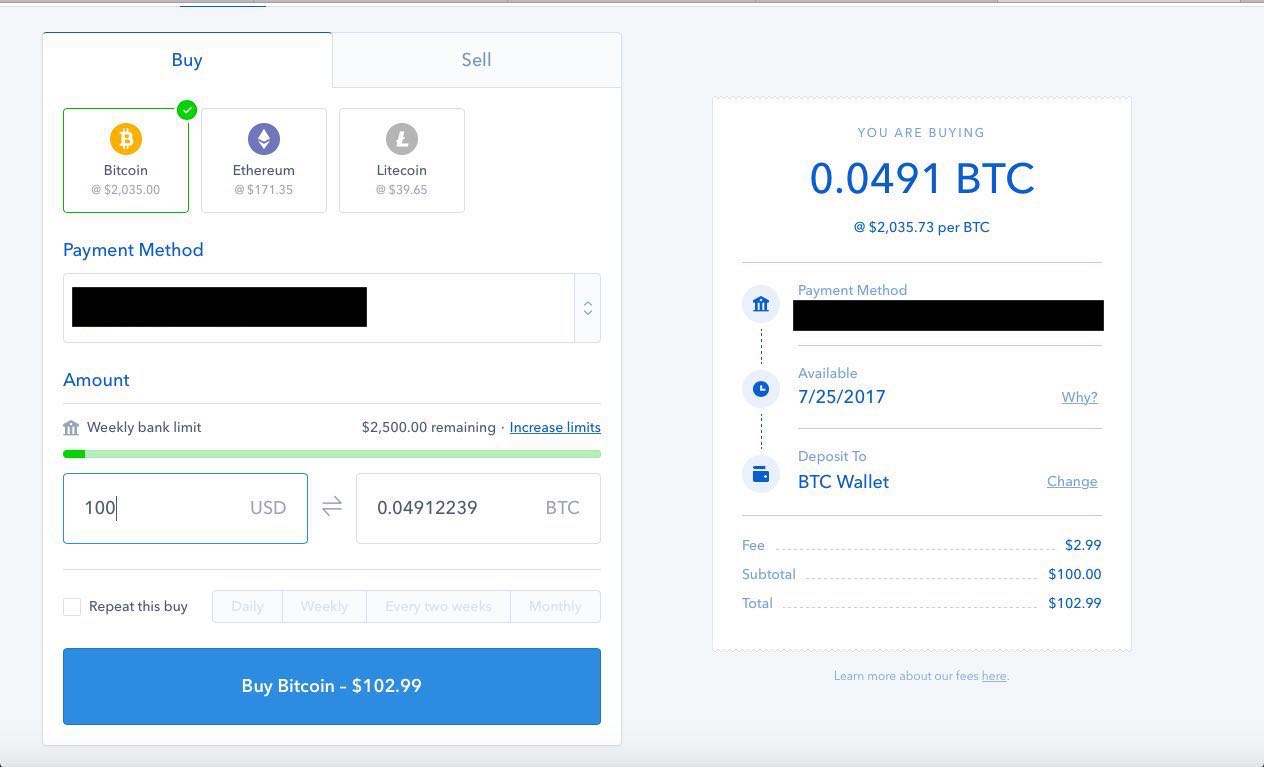 At the top of the buy box, choose which cryptocurrency you are going to purchase. In this case I'll be purchasing Bitcoin.
In the next section, choose your payment method. It is probably a good idea to choose your Credit/Debit card since the transaction will be instant.
After that, you can input the amount of Bitcoin you wish to purchase in Either fiat currency, or in Bitcoin terms.
Hit the "Buy Bitcoin" button, and you'll be asked to confirm the transaction on the next page.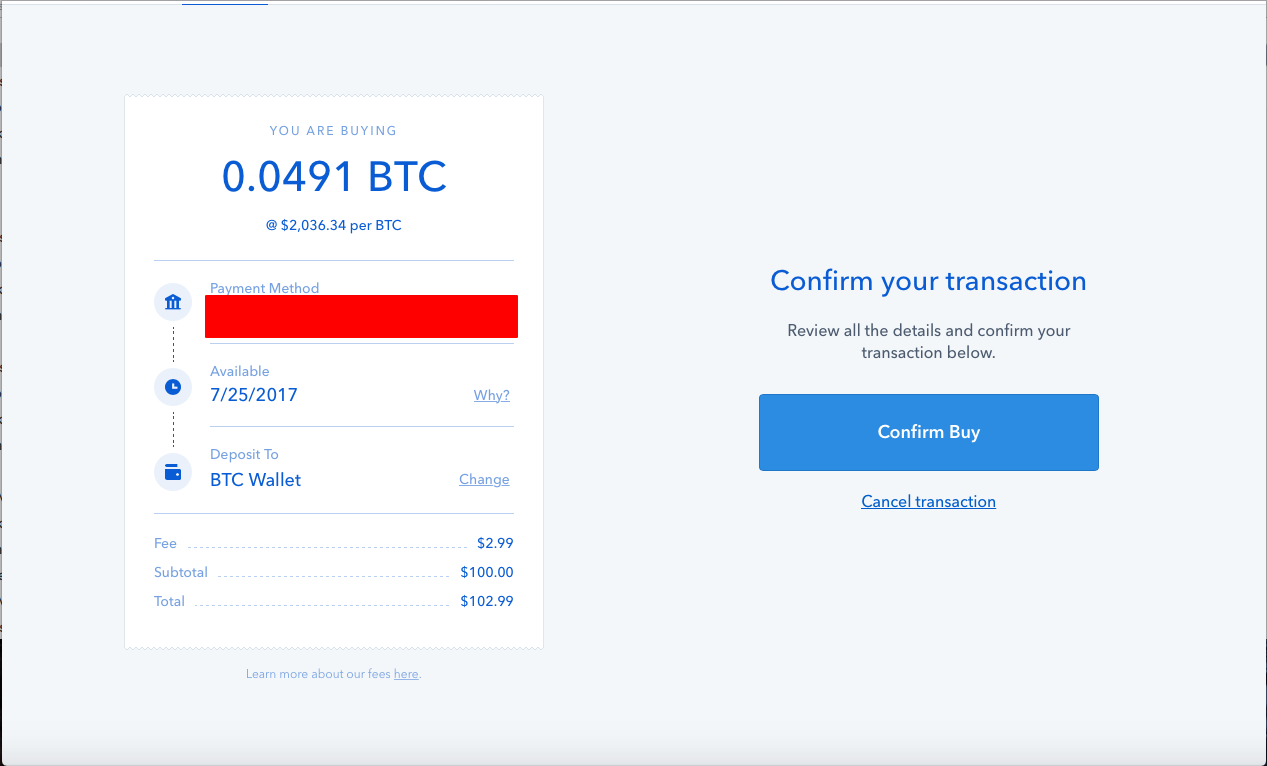 5. Click the "Confirm Buy" button.
Congratulations! You have now purchased your first Bitcoin!
Accessing your Coinbase Wallets
One of my favorite features of Coinbase is the ability to keep several Bitcoin wallets on their online system. Coinbase allows you to hold Bitcoin, Ethereum, and Litecoin.
You can even setup multiple Bitcoin wallets. This is good for both organizing your Bitcoin and maintaining a level of privacy.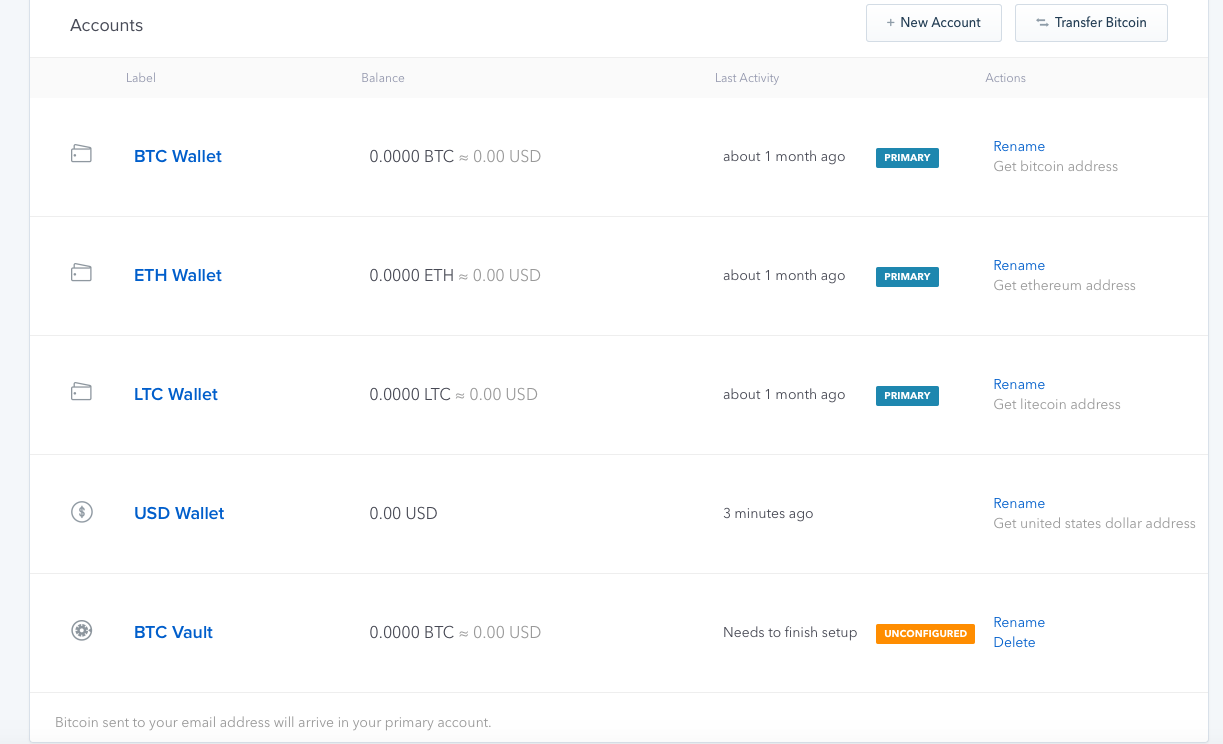 As you can see, we can keep track of several different wallets, transfer money between them, and even store them in the "BTC Vault."
The Bitcoin Vault
The Bitcoin Vault is a way of storing large amounts of Bitcoin that is even more secure than the traditional Coinbase Wallet. What makes the "vault" more secure is that it requires multiple approvals and the withdrawals are delayed.
Multiple Approvals
Essentially, when you set up a Bitcoin Vault, you can designate one or more people to authorize the transaction. This is a great feature, and I definitely recommend using it when holding large amounts of Bitcoin.
Delayed Withdrawals
Another security feature of the Bitcoin Vault is the delayed withdrawals. When withdrawing Bitcoin from your vault, the withdrawal will be delayed for 48 Hours. You can cancel this withdrawal at any time during this 48 hour window.
This is offers a good layer of protection if for any reason an unauthorized transaction takes place on your account. If at any time you notice a transaction that is not suppose to take place, you can cancel it.
Creating a Bitcoin Vault
Creating a Bitcoin Vault is a simple process.
First, go to "Accounts" aka the page that contains the list of all of your wallets.
On the top right of the page, click the "New Account" Button.
The page that comes up will give you the option to create a wallet or create a vault. Click the Vault option.
The next page will give you the option to name your vault. This is completely up to you.
Next, you'll be given the option between letting Coinbase manage your security or managing security yourself. Unless you are an advanced user, and you understand the concept of public and private keys, choose to let Coinbase manage your security.
Now you will be required to enter in a secondary email. This email will be used to approve any transactions made with your vault. Ideally, choose a secondary email that can't be recovered by the primary.
Congratulations! The setup of your new vault is now complete!
You can now transfer money into your new vault from one of your Coinbase wallets or you can send Bitcoin directly to it's public key.
Recap
Buying Bitcoin from Coinbase is a safe, simple process. Simply signup for Coinbase, Add a Payment Method, and make your first Purchase.
After you have purchased your Bitcoin, you can either transfer it to software wallet on your PC or you can leave it in your Coinbase Wallet. If you choose to leave it in your Coinbase wallet, you have the option of creating a "Bitcoin Vault". This will allow you to store large amounts of Bitcoin in a relatively secure manner.
I hope this guide was helpful to you! If you have any questions, I'll be happy to answer them in the comments below!
If there is anything that you think I should add to this guide, I'd appreciate your comments!